After helping Andy Kim win a tough race in 2018, we focused on ensuring our target audience of persuadable voters knew Andy Kim was working hard for the district and deserved to win re-election in 2020. We segmented these voters into multiple audiences to reach each group with the most effective message.
We ran a wide variety of positive static and video ads and changed the ads to ensure repeat engagement.
Services Provided:
50M+
Impressions
138K
Link Clicks
32K
Post Likes
After New Jersey moved to an all vote-by-mail general election, we took on the challenge of educating Kim supporters about how to vote and encouraging them to return their ballots on time.
Ultimately, Kim outperformed Joe Biden and won re-election, even though Donald Trump and the Republican Senate candidate carried this district in 2020.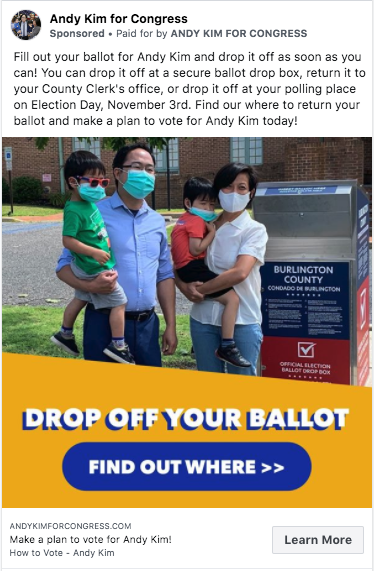 Want to learn more about how we strategize to win races in important congressional districts? Reach out!